Are you tired of serving the same old Thanksgiving spread year after year? It's time to spice things up and bring some excitement to your holiday table. One way to do that is by creating a stunning charcuterie board that will have your guests talking for days. So, ditch the traditional turkey and stuffing and get ready to feast your eyes on these edgy and creative charcuterie board ideas for Thanksgiving.
1. Leftover Thanksgiving Charcuterie Board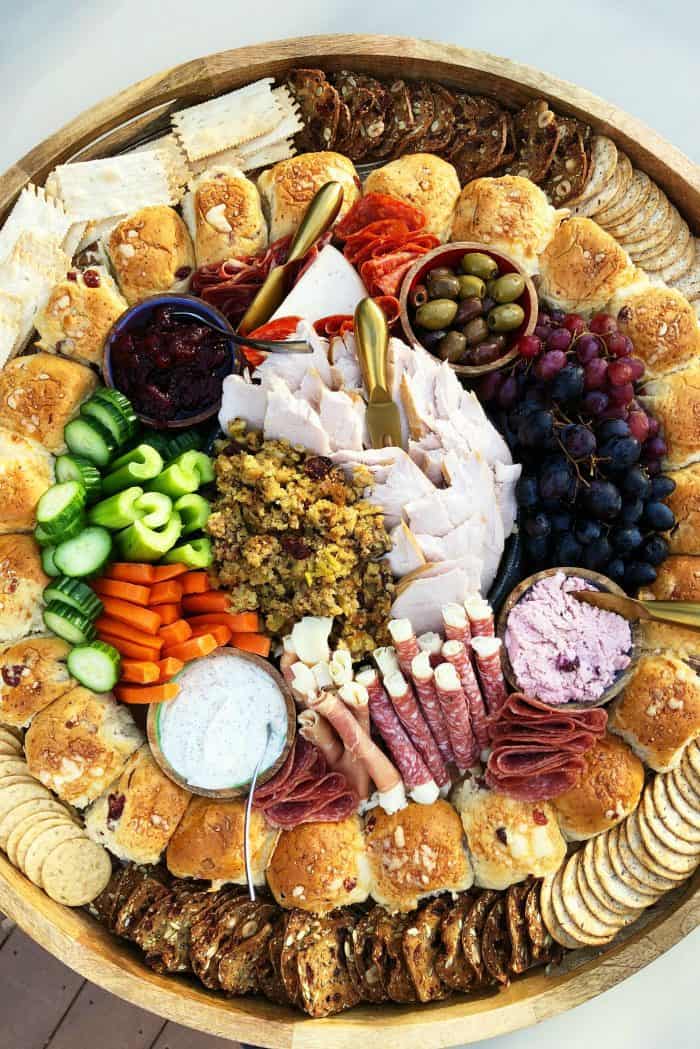 Who says leftovers have to be boring? Turn your Thanksgiving leftovers into a work of art by arranging them on a charcuterie board. Picture juicy slices of turkey, creamy mashed potatoes, tangy cranberry sauce, and crispy stuffing all beautifully displayed alongside an assortment of artisan cheeses, cured meats, and fresh fruits. This unexpected twist on a classic Thanksgiving feast is sure to grab the attention of your guests.
2. Fall Cheese & Charcuterie Board Ideas for Thanksgiving
Embrace the flavors of fall by incorporating seasonal ingredients into your charcuterie board. Think warm and spicy flavors like cinnamon-infused cheeses, pumpkin spice cured meats, and honey drizzled over crisp apples. Pair these autumnal treats with a selection of crusty breads and crackers for a truly sensational taste experience.
3. Thanksgiving Charcuterie Board Meal Idea
If you're looking to create a complete meal on a charcuterie board, look no further. This Thanksgiving charcuterie board is a feast for the eyes and the taste buds. Start by layering slices of roasted turkey on a bed of fresh greens. Add dollops of cranberry sauce, spoonfuls of creamy mashed potatoes, and a sprinkle of crispy bacon. Complete the board with an assortment of cured meats, cheeses, and breads. This interactive and playful meal idea will have your guests coming back for seconds.
4. Turkey Charcuterie Board
If you're a fan of all things turkey, then this charcuterie board is for you. Gather an assortment of turkey-related ingredients, from slices of succulent roasted turkey to turkey-shaped cheeses. Add some creativity with turkey-shaped crackers or turkey-themed cookies. Not only will this board be a feast for your taste buds, but it will also become a centerpiece that will grab everyone's attention.
5. Thanksgiving Charcuterie Board – Taste of Two
Looking for a charcuterie board that celebrates the diversity of flavors? This Thanksgiving charcuterie board designed by Taste of Two will leave your guests impressed. Combine sweet and savory elements by layering slices of prosciutto next to wedges of honeydew melon. Add a touch of tanginess with pickles and mustard. Enhance the variety by including different types of cheese, such as sharp cheddar and creamy brie. This tantalizing spread is a feast for both the eyes and the taste buds.
6. How to Make a Charcuterie Board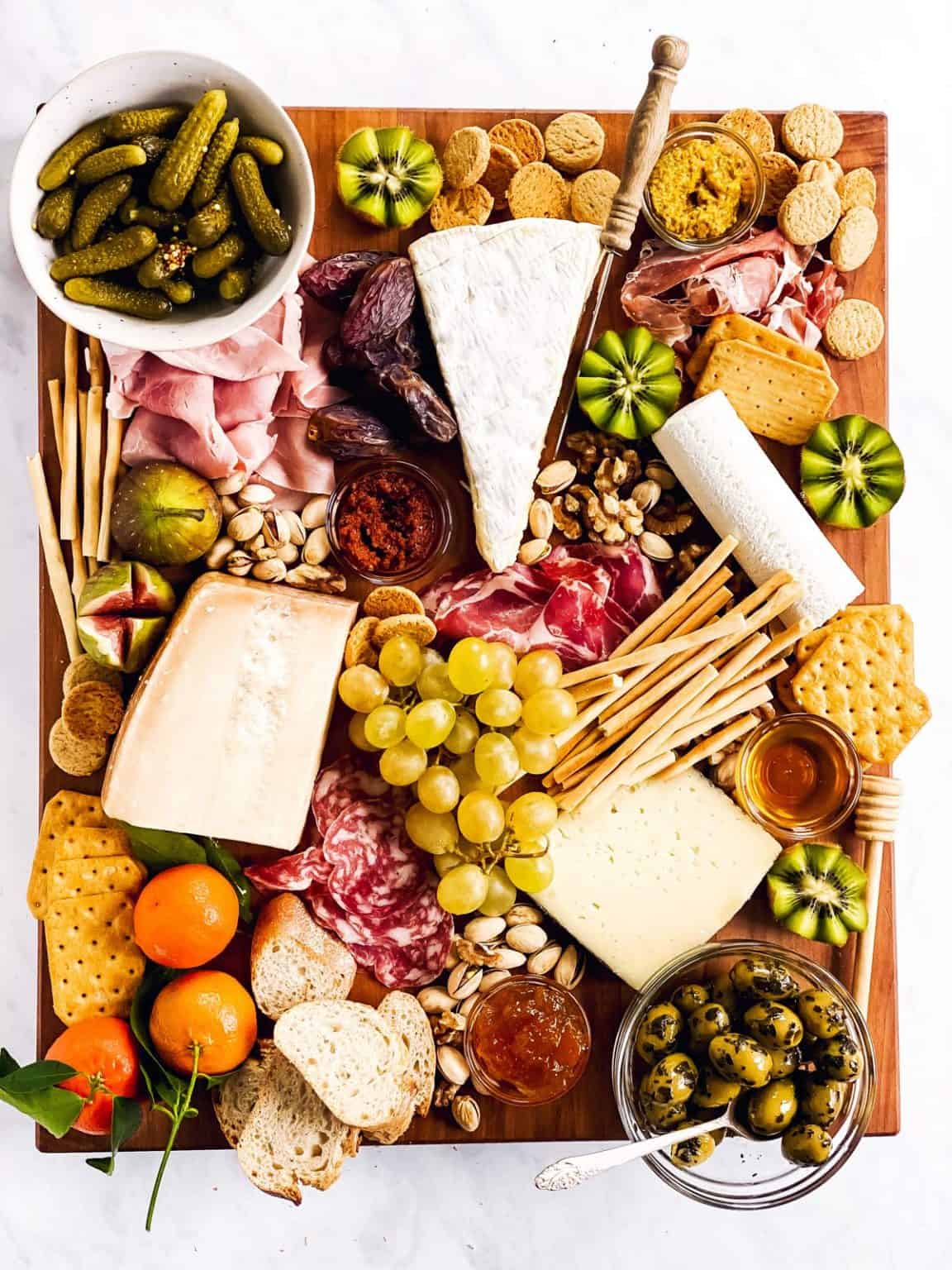 If you're feeling overwhelmed by the thought of creating a charcuterie board, fear not! Savory Nothings has got you covered with their comprehensive guide on how to make a charcuterie board. From choosing the right cheeses and cured meats to arranging them in an aesthetically pleasing way, this step-by-step tutorial will help you create a charcuterie masterpiece that will impress your guests and have them asking for your secret.
7. How to Build a Thanksgiving Charcuterie Board
If you're looking for some inspiration to build your own Thanksgiving charcuterie board, look no further than Brittany Stager's guide on how to build one. She offers tips and tricks on selecting ingredients, arranging them in an attractive manner, and incorporating seasonal touches. Follow her expert advice, and you'll have a stunning and delicious centerpiece for your Thanksgiving table.
8. Thanksgiving Charcuterie Board – Wanderlust and Wellness
Last but certainly not least, this Thanksgiving charcuterie board by Wanderlust and Wellness is a visual masterpiece. With its vibrant colors and thoughtful arrangement, it's hard to resist diving right in. From savory treats like olives and prosciutto to sweet indulgences like chocolate truffles and gourmet cookies, this board is a celebration of flavors. So, grab a plate and get ready to indulge in the ultimate charcuterie experience.
With these edgy and creative charcuterie board ideas, you can take your Thanksgiving feast to a whole new level. Whether you're serving leftover Thanksgiving goodies or crafting an extravagant spread, there's a charcuterie board idea for every taste and style. So, get creative, have fun, and leave your guests in awe with a show-stopping charcuterie board this Thanksgiving.
If you are searching about Leftover Thanksgiving Charcuterie Board – Reluctant Entertainer you've came to the right web. We have 10 Pictures about Leftover Thanksgiving Charcuterie Board – Reluctant Entertainer like Leftover Thanksgiving Charcuterie Board – Reluctant Entertainer, Thanksgiving Charcuterie Board Meal Idea | Ain't Too Proud To Meg and also Fall Cheese & Charcuterie Board Ideas for Thanksgiving – Easy. Here it is:
Leftover Thanksgiving Charcuterie Board – Reluctant Entertainer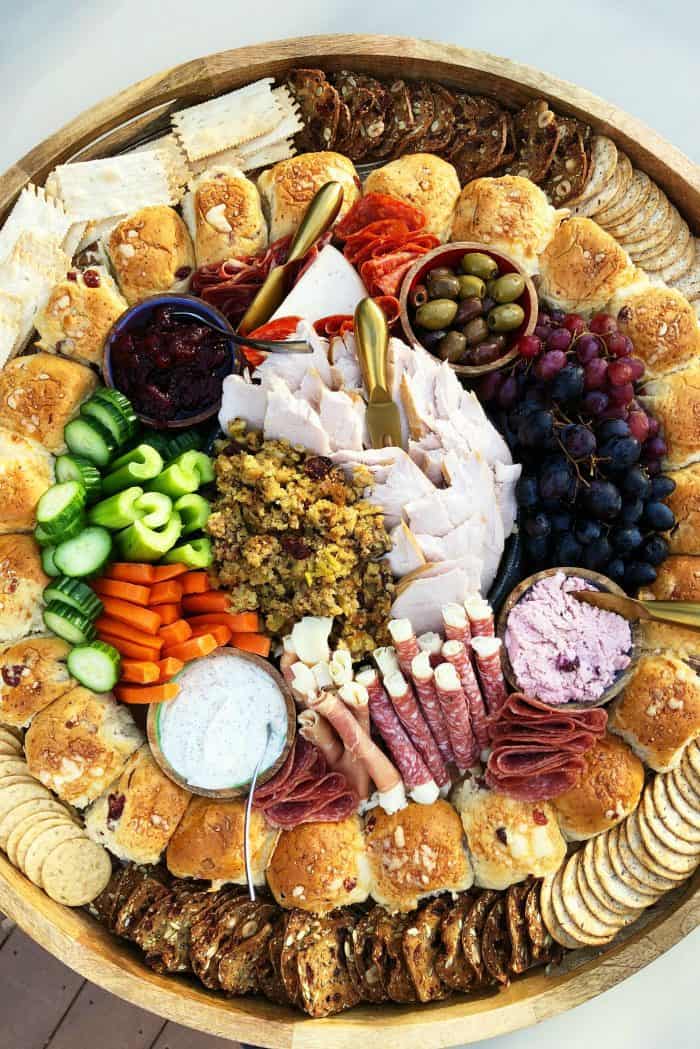 reluctantentertainer.com
charcuterie board thanksgiving epic leftover turkey easy food make recipes boards reluctantentertainer platter cheese leftovers party cranberry stuffing sauce create
Turkey Charcuterie Board | Charcuterie Board, Charcuterie, Thanksgiving
www.pinterest.com
charcuterie
Leftover Thanksgiving Charcuterie Board – Reluctant Entertainer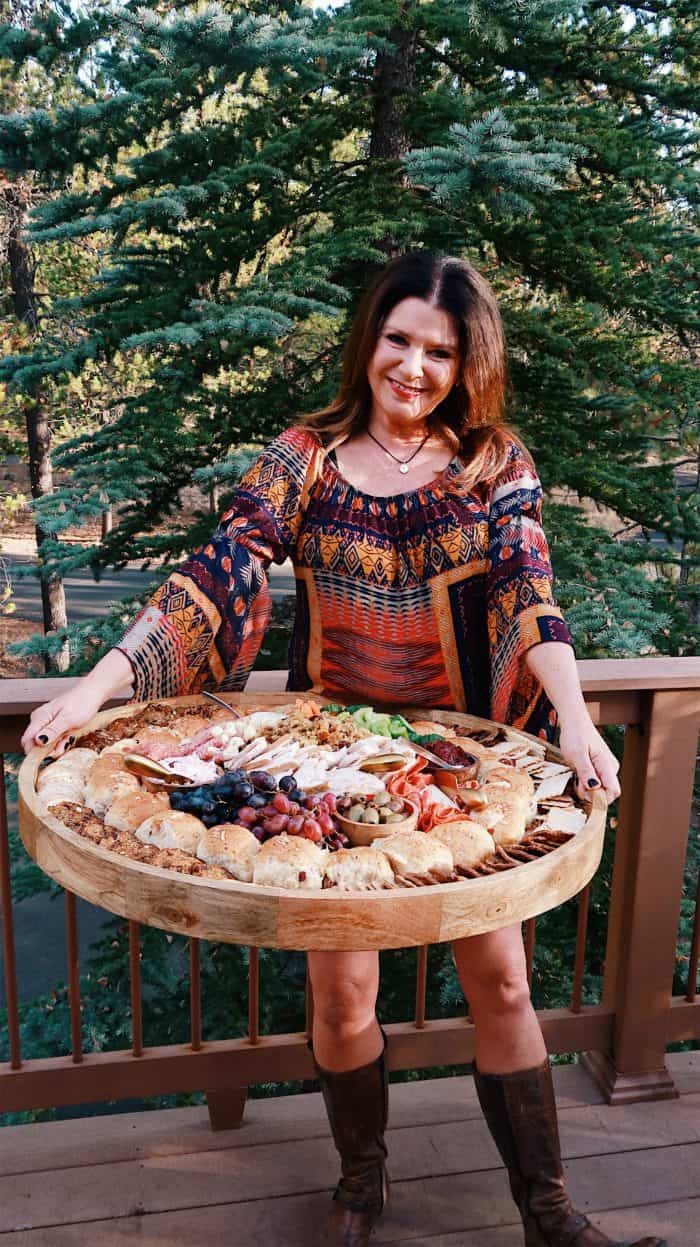 reluctantentertainer.com
board charcuterie thanksgiving leftover epic gratitude defines dinner if
Thanksgiving Charcuterie Board Meal Idea | Ain't Too Proud To Meg
ainttooproudtomeg.com
thanksgiving charcuterie distant
Thanksgiving Charcuterie Board – Bits And Bites
bitsandbitesblog.com
charcuterie board thanksgiving
How To Build A Thanksgiving Charcuterie Board – Brittany Stager
brittanystager.com
charcuterie thanksgiving board build include tools nuts roasted chocolate dark items add
Fall Cheese & Charcuterie Board Ideas For Thanksgiving – Easy
www.pinterest.fr
charcuterie appetizer asideofsweet
Thanksgiving Charcuterie Board – Taste Of Two
tasteoftwo.com
charcuterie appetizer
Thanksgiving Charcuterie Board • Wanderlust And Wellness
wanderlustandwellness.org
charcuterie boards platter wanderlustandwellness kaydeross
How To Make A Charcuterie Board – Savory Nothings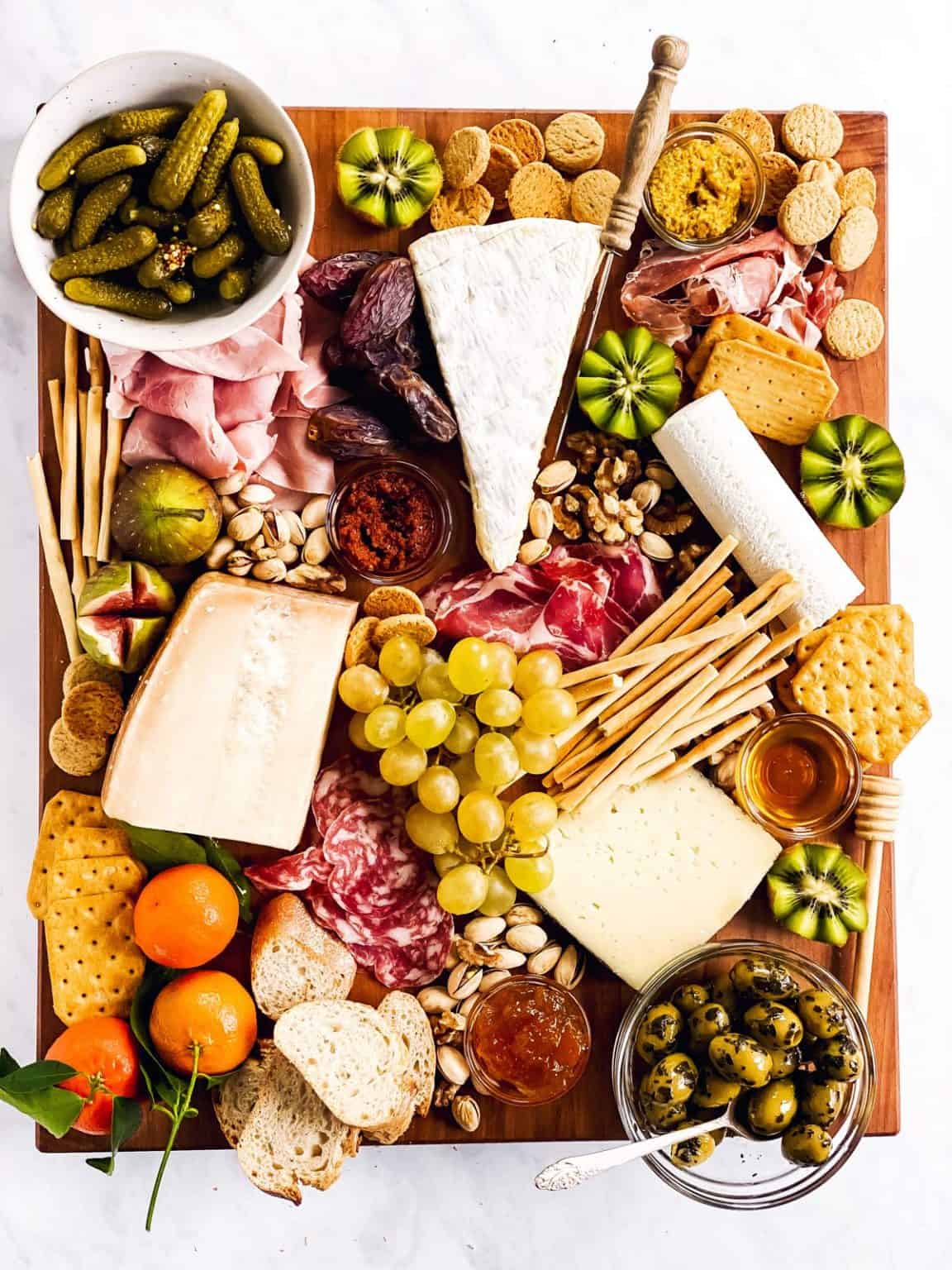 www.savorynothings.com
charcuterie savorynothings